Artist Profile: Bill Flowers aka "Snake Artist"
I am starting up a monthly artist interview and profile at 21st Century Celts on Redbubble.com and for the first one I chose the Australian artist Bill Flowers, aka
SnakeArtist
. Bill is an amazing artist, and also, in addition, works with wildlife rehab and rescues animals. Many of these rescued animals end up as subjects for his illustrations.
The original interview
I posted here
, but an edit of it is below.
Check out Bill Flower's full profile on Redbubble
here
or
visit his website
Below photo by
Jennifer Rowlands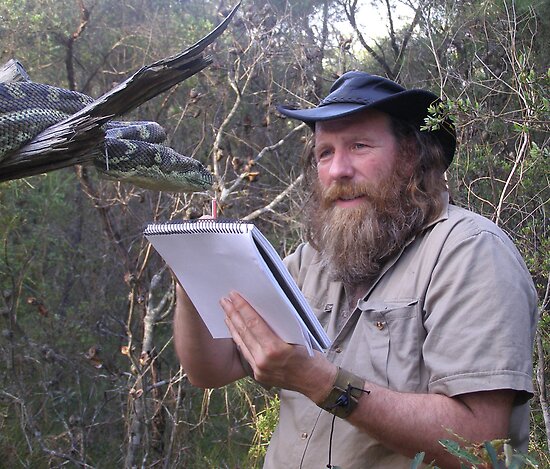 According to Bill's biography:
Since 1991 Bill has worked with wildlife as a rescuer and wildlife educator. He has rescued hundreds of snakes and bottle fed many marsupials like wombats, pademelons, wallabies, possums, quolls, bettongs, bandicoots and Tasmanian devils. Most of the animals depicted in his artwork are not only drawn from real life but are drawn from his experience with the animals.
Now to clarify this point, check out this video! In addition to seeing his work in progress using a sugar life technique, you can see exactly how he gets his inspiration for his animal art!
And in Bill's case, the critics can be scary!
Some of my favorite artworks by Bill include:
Celtic Brown Snake
,
Celtic Carpet Snake
and
Medusa Dance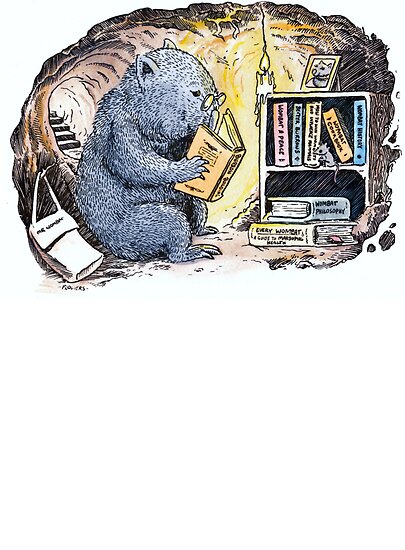 An Interview with Bill Flowers
1. How did you first become involved with wildlife rehabilitation? Was it before or after your career as an artist started?
Bill: Started art a long time before any real wildlife rescue, but nature has always been an interest.
2. Are you formally trained or primarily self-taught?
Bill: I did study art about 30 years ago but all the techniques of painting and drawing is self taught. In the late 70s early 80s any kind of realistic or fantasy art was frowned upon so I lead a sort of double life where I would paint abstracts by day to get good marks and draw more low brow graphic art at night and read a lot of comic books. For a while after art school I wanted to be a comic book artist and got some of my comics printed in some underground comic books. I was unhappy with the way I drew figures and endless searching for the right pose in muscle magazines so I went to med school for a few months and learnt about human anatomy, that was my best art training ever, seeing the human body without skin, seeing how the the bones and muscles work together in those few months was better than three years of life drawing. I could draw without any reference which gave me real freedom. I now see the best art training is real life experiences.
3. When did you first become interested in Celtic art?
Bill: A comic book artist called Simon Bisley drew a strip for 2000AD about a Celtic warrior, it was highly decorated with Celtic art. I then worked in a tattoo shop in the early 90s for a little while and saw a lot of it there. In the late 90s I run my own wildlife T-shirt business and tried a few Celtic animal designs and they sold well and still do.
4. What does Celtic design mean to you in the 21st Century. How do you juxtapose using such an old art form and making it relevant in today's society?
Bill: have friends are are aboriginal and they are very much connected to the land and nature. They draw and paint traditional aboriginal designs are a way of keeping there culture, I like it because it seems like a punk rebellion against the modern world. I am not aboriginal and feel it would be wrong to steal their style so look to my own roots, great grandparents coming from the UK, I look to the Celtic art.. A more primitive cultures are more in touch with nature. I guess I'm rebelling against the artificial modern 21st century.
Bill: Snakes more than any other animal lends its body to the Celtic style, I am working on a few octopus ideas as well. I guess I've always cheered for the underdog. I hate seeing injustice in the world and feel that snakes are highly discriminated against. My art is about making people see snakes as beautiful. I'm not sure if it's working I see people wince and look disgusted at exhibitions when they look at my work. But I think snakes are beautiful.
6. What are some of your favorite stories involving some of your "models"
Bill: I like to only draw snakes that I've experienced , people have asked me to draw ball python and other pets but I have stayed pure to the idea of snake experience first. I love it when I draw a snake or any animal that I have read about in books as a child first. The experience is chilling and exciting as I feel like I'm in the presence of a rock star. I can't pick anyone model that stands out, maybe when the Tasmanian devil grabbed my sketch pad and I had a tug-of-war to get it back.
7. Any upcoming exhibitions or news you want to plug?
Bill: I will have my Celtic snake etchings at the Tasmanian ArtHouse Group Exhibition which is happening 4th of August in Melbourne at SMArtartZ GALLERY, 2 Alfred Place, South Melbourne, VIC, Australia. Also I will have a couple of prints and a couple of paintings at Cold Blooded Creations Art Show 20-22 August which is part of the Big Reptile Expo in Florida, After that I will be travelling around America looking for reptiles and chatting to other artist.
8. Who are some of your favorite artists that inspire you?
Bill: This is going sound like a strange list but…Rauschenberg, Jasper Johns, Robert Crumb, Frank Miller, Norman Lindsey, Richard Corben, Burne Hogarth and my best friend and companion Jennifer Rowlands (another Redbubble artist)
9. What are some of your favorite materials and mediums to work with?
Bill: I tend to love everything, my latest favourite is etching.
10. What, if any, precautions do you take while sketching your subjects? Have you ever been bitten/injured?
Bill: I've been bitten, scratched, kicked, stung, pecked, butted by so many animals and I just chalk it up as life experience. Had to go the the doctor a few times to get patched up but I've never been to hospital because of it. The only precaution I take is sometimes I slip my fingers inside the pages of my sketch pad to protect them when drawing venomous snakes up close.