Odd Music
Mr. Pym
sent in the following video of David Byrne's latest project "Playing the Building". Unfortunately, the exhibit closed to the public last week; If I had known about it sooner I would have gone to check it out. The video by Boing Boing TV shows how Byrne transformed an entire NYC building into a giant musical instrument, played like a sort of pipe organ. See video below. More on David Byrne's art
here
.
Of course, if you like THAT, you can also go check out a less urban example of the same concept:
The Great Stalacpipe Organ
at Luray Caverns in Virginia. Invented in 1954, the Organ is the world's largest musical instrument, the worlds largest musical instrument. Stalactites covering 3 1/2 acres of the surrounding caverns produce tones of symphonic quality when electronically tapped by rubber-tipped mallets. Visit the Luray Caverns website
here
.
Then, of course, for the suburbanite is the Symphonic House, a joint effort between music and architecture. Click
here
for details.
More bizarre instruments can be found
here
, in the wonderful Odd Music web resource. One favorite:
The Harmonic Generator
.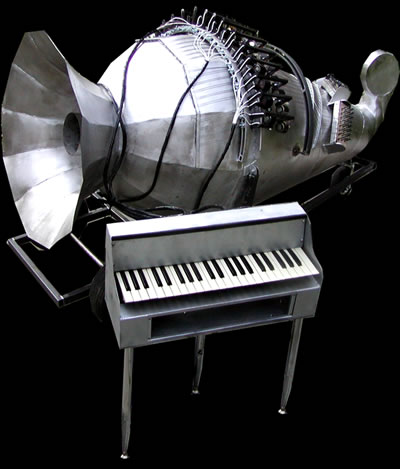 Update: I saw this posted over at
ProgressiveEars.com
, and felt it should be added to the odd music thread: Music for One Apartment and Six Drummers. Wait til you get to the Bathroom....